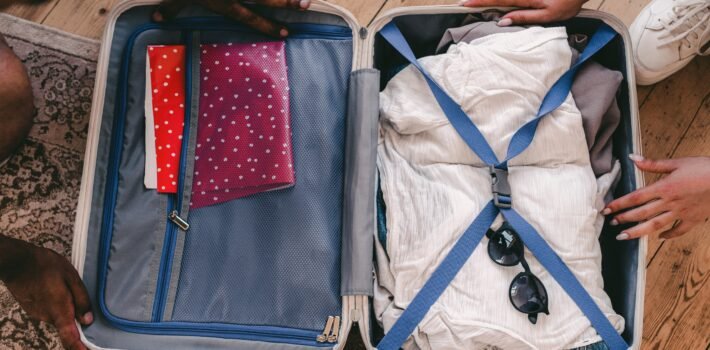 Have you planned a holiday to Greece but are agonising over the contents of your suitcase? Don't look any further- here are the best picks for your time in Greece. These picks will allow you to explore all of what Greece has to offer, and look good while doing it too. We've also included some items that you definitely shouldn't bring during your holiday. 
Firstly, make sure you pack plenty of sun cream, alongside all the documents that you need. You should also make sure that you're packing all of your medication and any electronics you need, such as your phone/laptop chargers. However, you will need to put a bit of thought into the clothes that you pack. 

What To Pack:
The cultural vibe in Greece is casual and laid-back, and often Greeks look effortlessly stylish while remaining very comfortable. You could see a variety of terrains in Greece, from the beach to the mountains, so it's important to pack versatile clothing so you can explore. You will also need a few nice outfits for meals out and visiting wineries.
Tank Tops
Tank tops are one of the best things you can pack for your trip to Greece, particularly cotton tank tops. They are relatively cheap to buy and are available in a lot of different colours, and they are easy to pack as they are quite small. This makes them an ideal thing to pack as they are able to be mixed and matched to make multiple different outfits. They are also fantastic for keeping you cool which is important in Greece, especially during the summer months. 
Shorts/Skirts
Keeping cool and making sure your legs don't overheat is incredibly important when it comes to keeping safe during your travels around Greece. If you're going to see a lot of landmarks, it's important that you aren't limited in terms of your mobility. Packing a few different skirts and shorts will make sure that you have enough to make sure your everyday outfits look current and fresh, while also making sure that you're comfortable. Denim shorts and skirts can look really stylish but are also fantastic for your comfort levels. 
Light, Summery Dresses
You might want to wear something a bit nicer on certain days, so light summery dresses are one of the best things you can pack. They are incredibly comfortable and allow air to get near your skin, which stops you from overheating. Light colours such as pastels and white shades are a great option when it comes to packing for Greece. This is because these colours keep you cool as they reflect the sun's rays. They are also really versatile and can be worn with lots of different styles of shoes, from sandals to sneakers, which means they're a great pick for travelling around Greece. 
T-Shirts
Taking a few t-shirts for more casual days is a great thing to pack for your trip to Greece. T-Shirts go with almost anything, so it's a great way to have a versatile option that can be mixed and matched. They are great for covering your shoulders so that they don't get burnt in the sun. 
Light Trousers
Shorts and skirts are always a safe bet, but it's also a good idea to look into getting some long light trousers such as Capri or palazzo trousers. Culottes are also a safe bet. They are really comfortable but keep you cool. It's important to take longer clothes for two reasons- on days when the sun is scorching, you will need to cover up a bit more. Furthermore, some holy places and attractions don't allow women to show their shoulders or bare legs, so you will need to bring alternative clothes if you want to wear these. 
Linen Shirts/Cardigans 
Linen shirts or cardigans are a great thing to pack. Carrying these around with you will allow you to cover your shoulders when you enter a holy place- if you can't do this, you may be denied entry. They're also great to add a bit of dimension to your outfits, or if it gets a little bit chilly when you're outside. 
Evening Meal Dresses 
Many people like to wear something a bit nicer and classier when they eat in restaurants during the evening. Many restaurants in Greece require diners to be a little more nicely dressed, for example requiring shoes with straps and not flip flops. Therefore, it's a good idea to pack a few nicer dresses to wear for your evening meal. These dresses can still be light and summery, but you could pack your more form-fitting or colourful dresses for the evening. Bodycon dresses can be a great selection for your evening holiday dress as they are comfortable but also look very stylish. 
Swimsuits 
You should pack at least two swimsuits if you're planning on going to the beach. This will allow you to let your other swimsuit dry while you're at the beach, meaning you will always be able to put on a dry swimsuit. 
Stylish Sandals
A good pair of sandals can go a long way. A stylish pair will go with every item of clothing that you pack for your holiday to Greece, and will also keep your feet comfortable when you're exploring the mainland and its surrounding islands. 
What Not To Bring: 
Heavy High Heels
Heavy high heels are a really bad idea to bring with you to Greece. This is because Greece has a lot of cobbled streets, so it may be really difficult for you to walk in them. They also unnecessarily weigh down your suitcase – it's also very unlikely that other people will be wearing high heels in restaurants and tourist traps. To experience Greece in its full glory, it's best if you leave the stilettos at home. 
Heavy Jeans
Stick to the lightweight trousers to fully experience what all of Greece has to offer. You want to have full mobility when you're exploring the hills and beautiful landmarks of the islands, and this can sometimes include a lot of walking. Lightweight trousers are the best way for you to explore fully! Heavy jeans can also make you overheat, so it's a good idea to leave these at home so you can keep cool. 
Too Many Accessories 
Many fashionable people want to look stylish no matter where they are, so they pack a lot of bracelets, rings, necklaces, bags etc. This can really clutter and weigh down their suitcase, and in Greece, you really don't need all of these things. Bring a couple of accessories that you wear every day and one sensible bag that you will be able to safely carry your passport, wallet and other documents in. This is truly all you need- the beauty of Greece is enough. 
Hiking Boots
Because Greece is so hilly, many people end up packing hiking boots. However, these truly aren't needed. Sandals and sensible trainers are enough – hiking boots can make your feet too warm and actually make it harder for you to get up high hills. 
Conclusion
They are our best packing tips for women going to Greece on holidays. Do you think we miss any that should be included in this list? Then write it down in the comment section below and we will add it shortly.